Muslim Weddings
Within the UK, the second largest religious group is that of Islam. More and more Muslim weddings are happening all over the place, but they are all so different. This is because there are such different Islamic traditions, ranging from different parts of China, to parts of Africa. This means that Muslim weddings can vary hugely, with some customs that exist incredibly important, but you may find that in other places those traditions have not even been heard of. There may be some customs that your parents, or other family members really want you to include, but don't forget that this is your wedding. Respect their wishes, but do not be forced against your will to include something that means nothing to you.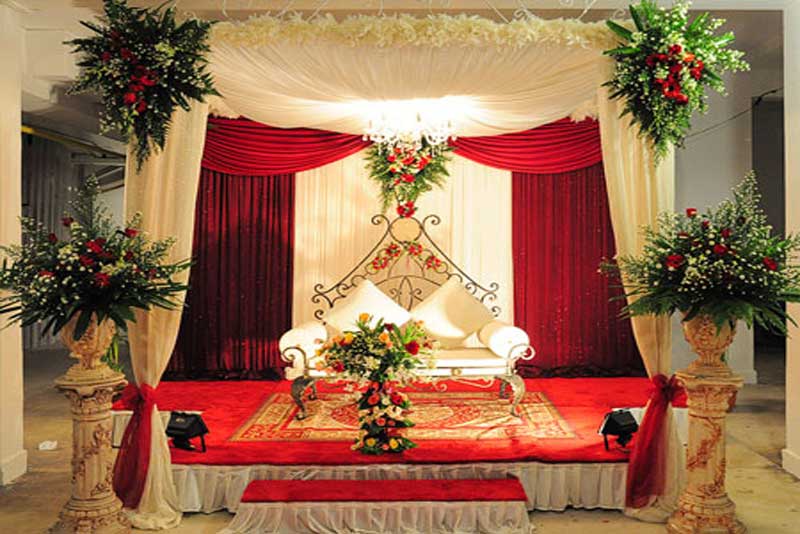 Because Muslim wedding ceremonies vary such a great deal, the outline that I will be presenting here is rather generic I'm afraid. It should give you an idea about how to structure the entire experience, and you can see whether you can pad this brief outline out with some brilliant ideas of your own.
When the engagement is celebrated, henna is used to confirm the new bonds that will be made between the two families. Two parties will happen: one each at the houses of the bride and groom, although they will not be on the same night. During this part of the ceremony, promises will be made by each family, and gifts exchanged to cement these vows. This is a time for fun and celebration. Beautiful music will be played, and gorgeous food served. The bride and groom will wear cheerful colours, like yellow, and it will be smiles all round!
The actual wedding ceremony is called the nikah. This is performed by a priest, and no one else, so make sure that you organise this way ahead of time. You could find that the priest that knows you, your family, and your partner is busy for many months in the future, so try and make sure that you can sort this out as a matter of urgency as soon as you are engaged. This will save any tears when he breaks it to you that he will not be able to officiate at your ceremony on the day that you have chosen.
During the ceremony, the priest will try to make sure that neither the bride nor the groom has been forced into the wedding. This rather old tradition is thankfully now merely ceremonial, and they are not expecting either one of you to try and make a run for it! This is also the moment at which the marriage contract is revealed, and any remaining terms that have not been fulfilled must be completed. This will often include a payment from the groom to the bride's family. This document will only be binding after all of the important parties have signed it – the bride, the groom, and their witnesses.
Whilst all of the important things are going on, there are also tricks and pranks that are customarily played during the wedding ceremony. One such trick is for members of the bride's family to steal the shoes of the groom. He then has to find them, and once he has, he is obliged to pay a ransom to all of those who wish it on the bride's family in order for them to be returned to him!
After the wedding ceremony is completed, she will leave with her new husband. An ancient tradition used to be carried out at this point; the brothers and male cousins would carry the newly married couple away on a palanquin. These are not generally found in the UK, and so quite often the bride and groom will get into a car, which will be pushed by his male relations, in a modern twist on this old custom.
When the bride arrives at her new home, her mother-in-law will be there to greet and welcome her, with a copy of the Quran to guide her. Three days will lapse before the next important element of the wedding celebrations, after which the chauthi, or fourth day, occurs. This is when the bride will visit her parent's house with her husband, after they celebrate their new marriage. It is only after this that there is a full wedding reception, although many modern couples decide to have this straight away. There is a feast, and many of the guests will give money or presents to the newly married couple.
I have to emphasise that these are the mere bare bones of a Muslim ceremony. There is so much depth to the events that will happen to cement your union. Be prepared for smiles and laughter, as well as tears as you say goodbye to one family, and begin to bring two together.
Frequently Asked Questions
We would like to hire the venue only for a Muslim Wedding, can you help?
We have many stunning wedding venues to hold your Muslim Wedding which will allow you to have the venue hire only.
Traditionally a bride is showered in confetti; however at my Muslim Wedding would your wedding venues allow me to be showered in coins by my guests as per my tradition?
Yes, please call us on 0203 341 5225 to discuss and we will discuss with the wedding venue of your choice.
We would only like a wedding venue for roughly 100 guests for the ceremony, however for our Muslim Wedding Reception we need a wedding venue that can hold up to 1,000 guests can you help?
Yes, many of our Muslim Wedding Venues can hold up to 1,000 guests.